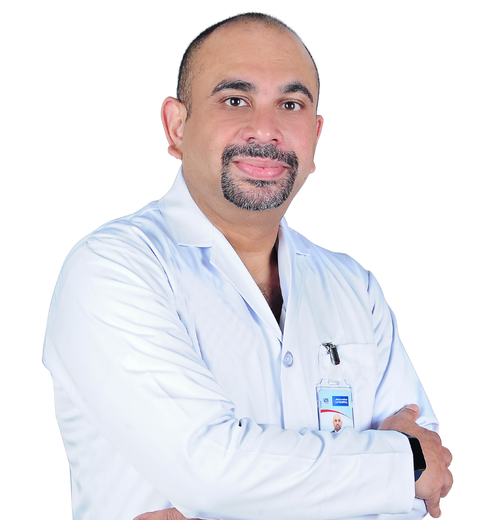 Dr. Pranjal Bhattacharjee
Specialist Family Medicine
---
Years of Experience :
17
Nationality :
India
Languages Known :
English, Urdu, Assamese, Bangla, Hindi, Marathi
Locations:
Baniyas
Qualification:
MBBS, MD Physician, D.N.B (Family Medicine) , CPS- Diploma in HIV/Infection
Book Appointment
Biography
Dr. Pranjal Bhattacharjee is a highly skilled Family Medicine Specialist with a keen interest in managing different types of diabetes. He completed MD Physician from Crimea State Medical University and DNB from Sir. H.N Reliance Hospital Mumbai, India. With an extensive experience spanning 17 years, he offers comprehensive healthcare services to individuals and families of all ages, covering a wide range of diseases and body systems.
Dr. Pranjal specializes in various areas, including the management of upper respiratory conditions, hypertension, and diabetes. He is well-versed in the clinical management of both acute and chronic medical illnesses. Additionally, he possesses expertise in invasive procedures and the management of mechanical ventilation. Dr. Pranjal holds a fellowship in critical care medicine from Medvarsity, which is part of the prestigious Apollo group of hospitals. His dedication and commitment to providing high-quality care are evident through his educational background and vast experience. His areas of expertise include,
Clinical management of various acute and chronic medical illness
Management and education lifestyle disease across all age groups
Management of Diabetes and complications
Hypertension, Asthma, COPD
Preventive Cardiology
Child health Infectious Diseases
Management of medical emergencies & Urgent Care, including cardiac, neurological emergencies, and nephron cases
Occupational Health and Travel Medicine
Mental Health and Pain management
Geriatric Care
Qualification
MBBS, MD Physician, D.N.B (Family Medicine)
CPS- Diploma in HIV/Infection