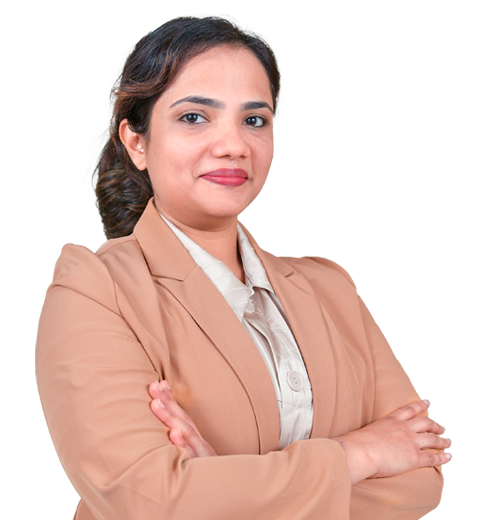 Dr. Priya Mathew
Specialist Periodontist
---
Years of Experience :
13
Nationality :
Indian
Languages Known :
English, Malayalam, Arabic,Hindi
Locations:
Musaffah
Qualification:
BDS , MDS
Book Appointment
Biography
Dr. Priya Mathew is a specialist periodontist with a passion for Gum Health and Implant Therapy, boasting 13 years of experience in the field of Dental Science. She completed her BDS from Government Dental College, Calicut, India, in 2009, following which she joined the Amrita Institute of Dental Science, Kochi, India. In 2012, she enhanced her proficiency in dentistry by completing post-graduation at Royal Dental College, Palakkad, India.
During her post-graduation studies, she received intensive training in implantology and laser dentistry, expanding her knowledge and skills to provide comprehensive periodontal care. Prior to relocating to the United Arab Emirates in 2022, Dr. Priya held a dual position as a clinician in private clinics and a faculty member at the Royal Dental College in Palakkad, India. This dual role not only allowed her to provide expert periodontal care to patients but also enabled her to stay updated with academic expertise and engage in research projects with aspiring dental professionals. She is passionate about helping patients achieve optimal gum health and restoring function and aesthetics through implant therapy.Her areas of expertise include, 
General Dentistry:

Proficient in comprehensive consultations.
Expertise in various filling techniques.
Skilled in precise and comfortable tooth extractions.
Experience in crown placement for optimal tooth protection.
Advanced knowledge in basic root canal treatments.
Specialized in aesthetic dental procedures for smile enhancement.

Non-Surgical Gum Procedures:

Proven proficiency in oral prophylaxis.
Expertise in effective curettage procedures.

Surgical Gum Procedures:

Expert in performing periodontal flap surgeries.
Specialized in gingivectomy, frenectomy, and related procedures.
Skillful execution of periodontal plastic surgery procedures.
Experience in soft and hard tissue augmentation procedures.
Knowledgeable in socket preservation techniques.

Laser-Related Gum Procedures:

Proficient in state-of-the-art laser treatments for various gum issues.

Implant Therapy:

Expert in single implant therapy.
Specialized in multiple implant therapy.

Aesthetic Gum Procedures:

Skillful in gummy smile correction procedures.
Proficient in crown lengthening procedures.

Systemic-Related Periodontal Therapy:

Experienced in addressing periodontal issues related to diabetes, cardiovascular conditions, pregnancy, etc.
Certifications
Certificate Course On Prestigious Nobel Biocare-Implant Program
Intensive Training On Soft Tissue Laser Application
Membership
Indian Dental Association (IDA)
Cochin Periodontist Society
International Team of Implantology (ITI)